()
Day Six – Saturday 8/7/17

Weather conditions: 21degrees, blue skies

Planted some herbs in garden, hopefully they'll thrive so I can harvest them regularly for my green smoothies. Cycled down to Vilppula, as I wanted to check out Metsä saw mill, which is pretty much out off bounds. As I'm not in Australia I don't think I'll be jumping fences. The round trip was 16km, which is probably the furtherest I'll cycle on the residency bike. The bike is old school with dragster handlebars, it has no gears and you have to back peddle to brake. I'm slowly getting the hang of it. I like cycling around as it's helping me to acclimatise to the idea left hand commuting. In a week or so I'll hire a car but at this stage I'll stick to peddle power. Getting behind the wheel of a motorised vehicle would not be wise at this stage. Went to the studio and worked till midnight, editing and filming. Ignacio was there and we made plans for Sunday, a designated day off. He is incredibly organised in the food department, he'd made pasta which we eat over the course of the afternoon. My contribution was a mashed banana and date sandwich for desert.
---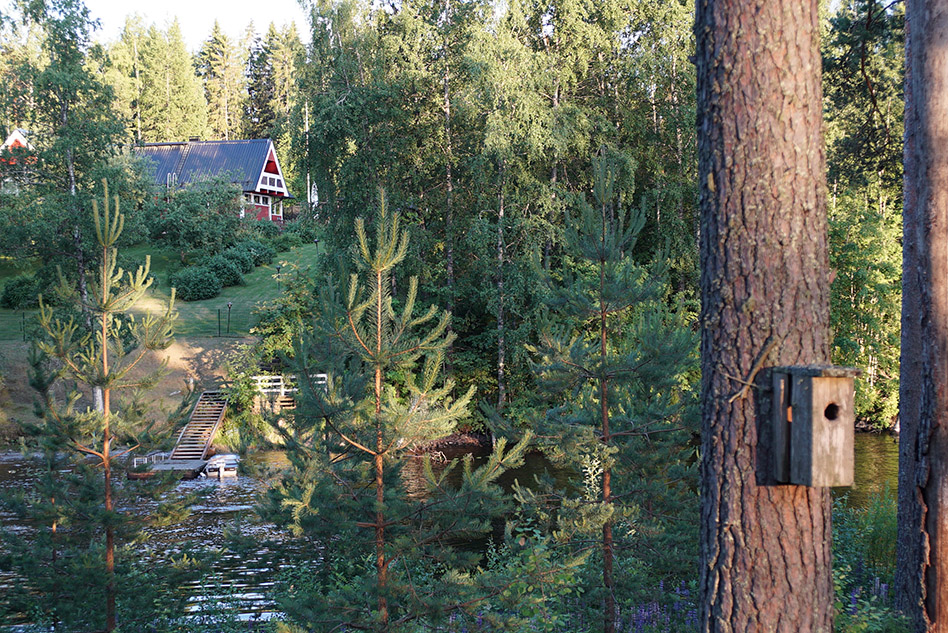 Day 7 – Sunday 9/7/17

Weather conditions: 25degrees, blue skies

Sunday was an excellent day all round. The weather was absolutely divine. I started the day by giving Ignacio a lesson in sound recording in order to prepare him for his upcoming whirlwind trip to Sweden where he will interview a mining activist. After the lesson was over we had lunch at Museum Gösta's Autere Cottage. The meal was scrumptious, an all you can eat buffet of tasty salads, chicken falafel's and home made bread. The quality of the food was outstanding. Even more extraordinary is as residential artists we get 50% off at the museums restaurant and cafe. Our lunch cost us just under 5euro. We ate to our hearts content and then took off on our bikes to explore the surrounding environs. Ignacio was keen to visit Vilppula and check out Savilahti, a section of river that was popular with anglers. I had visited Vilppula the day before so this time around I was keen to explore the back roads. At times we left our bikes and went bush bashing looking for I don't know what. I found a few sites that I will revisit and film. Much laughter was had on the journey as we meandered the back roads admiring the barn-like houses that were nestled in the wooded/farmed landscape. We finally reached our destination, found a spot on a pier where Ignacio could try his hand at fishing and I could bask in the sun and enjoy watching some young seagulls perched on a rock making feeble attempts to take flight. There we whiled away a few hours before hitting the road and continuing on our journey which would eventually bring us back to the residency house at 11pm. The day was capped off with another yummy meal, this time home-cooked: local potatoes, which we mashed, accompanied by garlic sardines and white wine.
---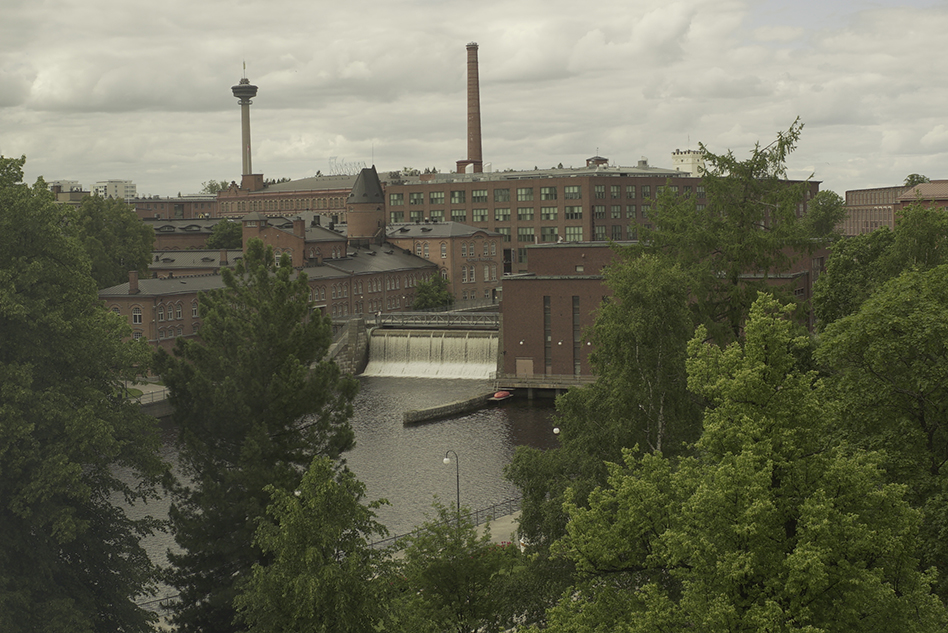 Day 8 – Monday 10/7/17

Weather conditions: 23degrees, blue skies

Monday saw me head back to Tampere for the day. I traveled there with Ignacio to help him purchase some sound equipment for his upcoming trip. It was a very successful shopping day for all. First off the train ticket was purchased for Sweden then we were off to the camera/music shops to hunt down the necessary equipment, headphones, lapel microphone, fluffy for the mic and a portable hardrive. Finding these things in Tampere wasn't so easy. The hunt made me appreciate how fortunate I am in Melbourne as most of these things I could pickup in one hit at Factory Sound. In order to purchase all the items we had to visit 7 shops across town. Our journey to Tampere wasn't all about sound gear. I purchased some cycling, no I should say horse riding gloves, which I'll wear for cycling. The gloves were a great buy at 4euros. We did visit some cycling shops but the gloves there were outrageously priced at between 25 and 35euros, too rich for my liking. After that the search began for some hiking boots, we end up at Stockmann the local department store. I have to say Ignacio has eagle eyes, he spotted a good looking pair of sturdy high cut hiking boots for 50euros, these were tried on and fitted. I took them to the cash register to pay for them and to my surprise they had been reduced to 17euros, which delighted me no end. I wasn't so keen on the idea of heavy hiking boots, however as I intend to spend quite a bit of time documenting the forests I want to protect myself as much as possible from the ticks. We capped off our time in Tampere with a yummy smoothie and a slice of carrot cake before heading back to the bus station. I dozed for most of the journey back to Mänttä waking for the last 50km. The bus journey was very rewarding, it gave me a sense of how the surrounding area is logged. We were ladened with shopping and I was contemplating how we were going to manage to cycle back to the residency house with all our boxes. The Serlachius bus doesn't stop at the museum after closing hours. But the bus driver without any prompting from us took us there, which we both thought was a very considerate gesture. He then waited while we dropped our purchases off, afterwards he took us to the bus station where our bikes were parked. Ignacio headed to the studio and I to the residency house where I indulged in a sauna to pass some time. At midnight I headed out to the island and spent and hour or so filming the distant forest It was a beautiful evening, the moon was full and there was a gentle breeze which kept the mosquitoes at bay. I couldn't think of a better way to close the day.


Supported by